Second influential investor group demands lender adopts stricter climate change policy
Barclays is under intense pressure over its role in financing fossil fuel producers after a second influential group of big shareholders demanded the British lender adopts a stricter climate change policy.
The Investor Forum, a group that represents the UK's largest investors, with £18.5tn in assets, has held discussions this year with the bank over its climate change policies, according to two people involved with the organisation.
One of the people said Barclays significantly lagged behind European peers, ranking as the biggest financier of fossil fuel companies in Europe.
The Investor Forum has not established a specific set of requests for Barclays. But the person involved said: "In 2019, climate was on the agenda [during conversations between the Investor Forum and the bank], but down the list. Climate has now become the agenda, coming up to the AGM."
Barclays was already set for a tetchy annual meeting in May after a group of shareholders filed a landmark climate change resolution that called for the bank to publish a plan to phase out financing energy companies not aligned with the Paris agreement on global temperature.
Since the resolution was filed, Barclays chairman Nigel Higgins has met investors to discuss the lender's approach to climate change. Several people involved in the talks said the bank was considering putting forward its own climate change plan in an attempt to see off a revolt at its annual meeting.
One top 30 shareholder said: "They are trying to reach out to investors. I would expect them to move [and propose their own plan]. At this stage, I am not overly convinced it will be as progressive as it could be and that we would want it to be."
Barclays has provided more than $85bn of finance to fossil fuel companies and high-carbon projects since the Paris agreement was signed in 2015, according to ShareAction, the charity that co-ordinated the climate change resolution.
This makes it the world's sixth-largest backer of fossil fuels, and constitutes the highest level of fossil fuel financing of any European bank, exceeding its peers by $27bn.
Last year Barclays published a policy for how it conducts business with companies involved in carbon-intensive industries. But unlike many European peers, it has not ruled out funding projects or companies involved in coal or tar sands, a type of petroleum deposit.
BNP Paribas said in 2017 that it would stop doing business with companies whose primary activities involved oil and gas extracted from shale deposits or tar sands. Crédit Agricole and Standard Chartered also have stricter policies on financing fossil fuel producers.
A spokesperson for Barclays said: "We continue to engage with ShareAction and other stakeholders on this issue and will make a further statement at the appropriate time."
The Investor Forum, whose 50 members include Standard Life Aberdeen, BlackRock and M&G Investments, declined to comment.
Source: Financial Times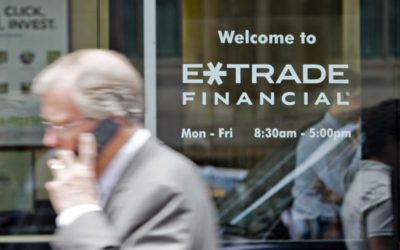 Wall Street investment bank Morgan Stanley will acquire E-Trade for $13 billion, the companies...
read more