In the first nine months of 2020, amid a global pandemic and volatile financial markets, private equity funds made a record number of buyout deals.
More than 5,500 private equity-backed mergers and acquisitions have been announced so far this year, according to data firm Refinitiv's third-quarter M&A report. It's the highest year-to-date total since Refinitiv began tracking leveraged buyout data in 1980.
At the same time, however, overall deal value has declined 6 percent from the same period last year, with private-equity-backed M&A activity totaling $345.4 billion at the end of September. Matt Toole, director of deals intelligence at Refinitiv, said the increase in deal count and decline in dollar volume can primarily be explained by a "resurgence" in mid-market deals, as well as a "bumpy" year for valuations.
"We've certainly seen private equity have a big impact in that mid-market space," he said by phone. "They're acquiring divisions or non-core assets as companies are looking to dispose of certain divisions."
According to Refinitiv, overall M&A volume globally surpassed $1 trillion in the third quarter, bringing the year-to-date total to $2.2 trillion. The quarterly total was a "big surprise," Toole said, adding that he and others watching M&A trends were not expecting dealmaking to return so quickly after freezing up at the start of the pandemic.
"The financial environment seems to have brought buyers and sellers closer together," he said. "There were also some pent-up deals that probably would've been announced earlier had we not gone into the lockdowns. Some of that seems to have been figured out."
Toole said that the pandemic has created buying opportunities for private equity firms, which are "flush with cash" after record fundraising in 2019. According to Refinitiv, private equity deals have accounted for 15 percent of overall M&A activity so far this year, up from 13 percent during the same period last year.
Technology companies and industrials firms have been the biggest targets so far this year, accounting for 41 percent of private equity deals, according to the report. Deal activity in the consumer products and industrials sectors has increased 61 percent from this time last year, Refinitiv said, while telecommunications sector deals have fallen by 67 percent.
"This looks to be comfortable spot where [private equity funds] are making sizable transactions and taking advantage of companies selling assets," Toole said. "With the amount of capital they've raised and their current ability to finance transactions in the bond market and leveraged loan market — as long as those stay at their current level I would expect to see private equity be a big driver of M&A."
Source: Institutional Investor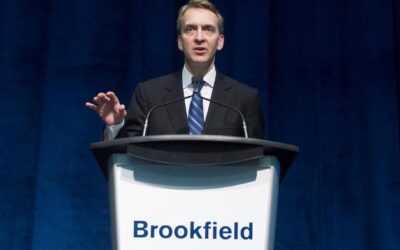 Brookfield Asset Management Inc. is exploring a sale of its life-sciences real estate portfolio,...
read more