New Energy Capital Partners expects President-elect Joe Biden to give a boost to the renewable energy sector by extending incentives just as the private-equity firm seeks to invest a $500 million credit fund focused on the sector.
No matter which party controls the Senate, federal incentives will be significant, said Scott Brown, New Energy Capital's chief executive and a managing partner, noting that "What I expect to see would be an extension of the investment tax credit and the production tax credit."
As it stands, the production tax credit for renewable-power generators will benefit projects built only until the end of this year, and the investment tax credit for installing solar-power systems will disappear in 2022 for homeowners while dropping sharply for businesses. Mr. Brown said the new Democratic administration could give these incentives three to five years more life, helping to spur greater investment.
"I think it will add a significant amount of new capacity every year. The financial returns on those assets will be significantly improved, which will drive more project development and more construction," he said, referring to potential extensions. "There will be a lot of additional benefits in the services around the industry that will just help the economy."
During the presidential campaign, Mr. Biden promoted a $2 trillion plan to help transition the U.S. to a "carbon pollution-free" electricity sector by 2035. His campaign also vowed to reform and extend tax incentives for renewables and develop financing mechanisms to encourage private investment in clean energy.
Tax-credit extensions are likely to have bipartisan support because the five top wind-power producing states—Texas, Iowa, Oklahoma, Kansas and California—have several Republicans in their Congressional delegations, Mr. Brown said. He added, however, that the likelihood of major clean-energy legislation in the next Congress or the passage of a carbon tax or other emission-pricing mechanism is less likely should Republicans retain control of the Senate.
Republicans oppose a plan backed by Democrats called the Green New Deal to overhaul the country's energy and transportation infrastructure with the aim of eliminating greenhouse gas emissions by 2030. Senate Majority Leader Mitch McConnell (R., Ky.) has said the plan is unrealistic and would cripple the economy while imposing huge costs on taxpayers.
Meanwhile, rising demand for renewable energy is creating investment opportunities for New Energy Capital, a specialist in financing solar power companies and renewables-infrastructure projects.
Early last year, the Hanover, N.H.-based firm wrapped up fundraising for its $500 million New Energy Capital Infrastructure Credit Fund II. The firm has so far committed 40% to 50% of the fund across eight deals. They include three additional investments in businesses the firm had previously backed, Mr. Brown said.
"We are already seeing some acceleration of the investment pace," he added. "We are very optimistic about the industry and very optimistic about investor interest and demand from companies and [other] entities for more clean energy."
Last year, annual energy consumption in the U.S. from renewable sources exceeded consumption from coal, reflecting the continued decline in the use of coal for generating electricity over the past decade as well as growth in renewable energy, mostly from wind and solar, according to the U.S. Energy Information Administration.
Renewable sources are expected to account for 45% of the electricity generated globally by 2040, up from 26.2% in 2018, according to the Center for Climate and Energy Solutions, an advocacy group in Arlington, Va.
New Energy Capital focused on credit investments with its two latest vehicles, as opposed to equity funds it raised since its founding in 2004. The firm typically invests through preferred equity as well as mezzanine and senior debt in development-stage projects in the U.S. Most deals from New Energy Capital Infrastructure Credit Fund II were in the solar sector, where the firm is finding the best opportunities.
"We've invested in a variety of different types of solar projects," Mr. Brown said. "We've done some utility-scale solar, some community solar and some commercial and industrial solar, and then we've also invested in energy efficiency and storage."
He noted the coronavirus pandemic has delayed permitting and inspection of projects by authorities as well as construction of commercial and residential solar-power systems. But business activity around renewable-energy projects began rebounding in recent months, he added.
"Overall, I would say that the market has not been dramatically affected and utilities have not slowed down their procurement of utility-scale solar or wind," Mr. Brown said.
Source: Wall Street Journal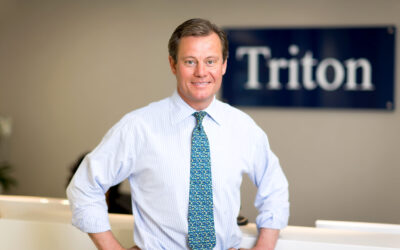 Buyout group Triton is preparing the sale of its damage restoration services firm Polygon in a...
read more