AMP Limited and Ares Management Corporation today announced that they have entered into a non-binding Heads of Agreement to pursue the formation of a joint venture for AMP Capital's private markets businesses of infrastructure equity and infrastructure debt, real estate and other minority investments.
Under the proposed transaction, Ares would acquire 60 per cent of Private Markets and assume management control, with AMP retaining 40 per cent. AMP and Ares will enter into a 30-day period of exclusivity, to work towards a binding transaction.
The partnership would facilitate an acceleration of the growth of Private Markets, while unlocking immediate value for AMP shareholders. Ares, with a current market capitalisation of more than US$13 billion, has a global footprint and capabilities in credit, private equity and real estate which are highly complementary to Private Markets.
The proposed transaction will mark the conclusion of AMP's portfolio review.
During the exclusivity period3, the AMP group must not directly or indirectly solicit, engage with or accept any competing proposal (including any proposal that may prevent, prejudice or jeopardise the transaction as well as a change in control of AMP), or any inquiries, indications of interest, offers or discussions with, or furnish any information to, any third party in relation to a competing proposal, or that could reasonably be expected to lead to a competing proposal or to AMP not proceeding with the transaction.
There is no certainty that a transaction will proceed, or the terms on which it would proceed.
AMP Chair Debra Hazelton and AMP Chief Executive Francesco De Ferrari commented:
"We believe the proposed partnership with Ares would deliver strong outcomes for our clients, our shareholders and our broader business. We expect it would strengthen the business and significantly accelerate our strategy to grow private markets, while de-risking our international expansion plans, and bringing forward the value in AMP Capital for our shareholders. The joint venture would also enable AMP shareholders to participate in anticipated accelerated growth from a business with increased global scale and capability.
"The transaction will enable AMP to increase focus on the transformation of our wealth management business in Australia, drive the continued growth of AMP Bank and New Zealand wealth management and benefit from driving further efficiency. We look forward to working towards a binding agreement with Ares, which will mark the conclusion of the portfolio review."
Ares Management Corporation Chief Executive Michael Arougheti commented:
"We are excited to further expand our real estate and infrastructure investment capabilities through our partnership with AMP. We believe we can add significant value through our global scale, relationship network, investor relationships and our broad, collaborative investment platform. We've been impressed by the growth of AMP Capital's private markets business over the past several years and our time with the team as part of the portfolio review has further cemented our view on the intrinsic value of this business under our leadership. We expect that this transaction would be highly strategic and complementary to our business and financially accretive for our shareholders."
Source: Businesswire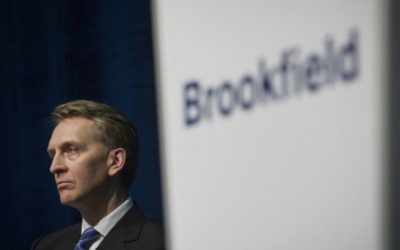 Hammerson has agreed to sell its retail parks to Canadian private equity firm Brookfield, after a...
read more